In this article, we will be giving you a comprehensive summary of Second Class Citizen by Buchi Emecheta.
ABOUT THE BOOK
The novel Second Class Citizen was written by Buchi Emecheta is a novel that centers on gender inequality and racial discrimination. The novel is set in Lagos, Nigeria, and Later in Liverpool, London.
Below is the comprehensive summary of Second Class Citizen by Buchi Emecheta. This summary will help students and teachers understand the plot arrangement of the novel Second Class Citizen and also provide a better understanding of the themes presented in the novel.
Buchi Emecheta's Second Class Citizen centers on the life struggle of the protagonist, Adah Ofili. The plot of the novel is majorly divided into three parts;
The first part discusses Adah's early life as a child and later her ambition to be educated,
The second part portrays her married life and her struggles as a married woman,
Lastly, the third part portrays her in London, projecting racial discrimination and continued subjugation against her by her husband, Francis.
THE SUMMARY OF SECOND CLASS CITIZEN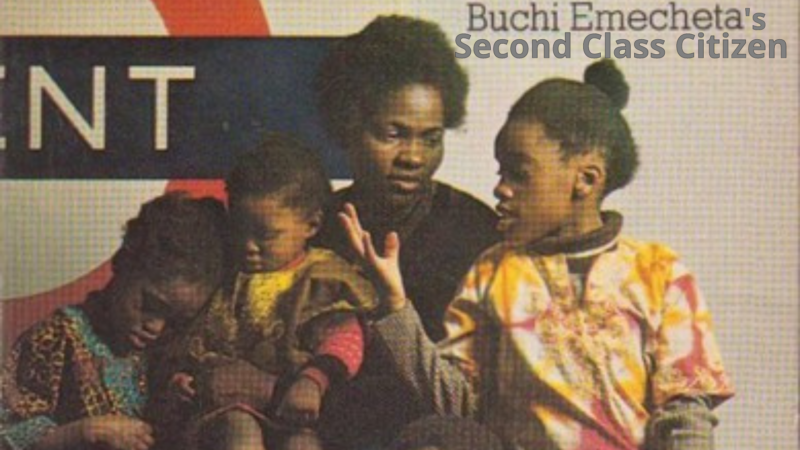 The novel begins with Adah as an eight-year-old girl seated between her dream to be educated and societal gender discrimination. The novel at that time is set in the big city of Lagos, portraying the Igbo family of Ofili, precisely around the post-colonial era in Nigeria.
At the beginning of the novel, Adah's mother and the Ibuza women are seen preparing to welcome the "golden son" who had completed his university education in the United Kingdom. Adah is fascinated with the idea of going to the United Kingdom to study and as such came up with the dream of being an educated woman aiming to study in the United Kingdom.
The author presents Adah as a willful girl, has a dream and determination to reach out for what she wants. Alongside Adah's character, the author illustrates the issue of gender discrimination; the devaluation of the girl child. Consequently, Adah had to stay home and let her brother Boy go to school.
In an effort to go to school, Adah makes her way to a nearby school where her neighbor Mr. Cole works. Adah after consistent refusal to leave school is allowed to continue school but soon had to drop out when her father died.
Adah's life meets a twist, as her mother is inherited by her uncle, as their culture demands, she is sent away to live with her maternal uncle, where she continued schooling in a less expensive school. She struggles as a teenager, having to deal with the pressure of getting married or continue pursuing her dream. Adah soon graduates from secondary school amidst so much pain and suffering.
The second part of the plot ushers in Adah's marriage to Francis, a marriage which is primarily aimed at giving her an opportunity to further her education, not because Francis will send her to school but because he is also educated and as such wouldn't mind her furthering her education.
Unknown to Adah the acceptance was all for her hard work and ambition, her in-laws saw her potential and were determined to exploit her, ripping her off financially. Adah's success as a career woman came with painful consequences. She catered for her family, was under the control of her in-laws, and was only loved for her financial contributions.
She is an asset to her in-laws, yet they treated her with less respect. Francis did well to get her pregnant, beat her up, and suck up to her later on for money. Adah's patience with her dream got her to send her husband Francis to her dream country the United Kingdom. She paid the tuition fee for Francis, and accommodation and regularly sends him a stipend while catering for her children and in-laws.
The last part of the plot makes the most of the novel, as the author portrays Adah finally in her dream country. Her life in the United Kingdom was nothing she imagined it to be like. Back in Nigeria, she lived a highly respected life as a first-class citizen, her level of education and financial status granted her more than a comfortable life.
However, in Liverpool, London, Adah's status dropped as low and as flat as the ground, nothing was like her usual life in Nigeria. Adah had to deal with racial discrimination, a poor condition of living, and her lazy and abusive husband. The responsibility of catering for her five children and working alone to cater for the family.
Adah lives as a second-class citizen in the UK, employing a babysitter named Trudy for her children, she is faced with yet another challenge, as Trudy mismanages and treats her children without care, and as a result, she enrolls them in a nursery.  As the novel proceeds, Adah and Francis are threatened with eviction from their cramped home. They are faced with racial discrimination and are unable to find a good house, they finally get a cramped house at another Nigerian's place, a man named Mr. Noble.
Towards the end of the novel, Adah manages to survive after giving birth to her fourth child through surgery. She is maltreated and beaten by her husband who calls her lazy for feeling unwell after surgery. She tries to go on a family planning but Francis is unsupportive about it and beats her up when he found out she tried to carry on with the birth control without his consent.
Adah is unable to bear Francis's consistent maltreatment and she informs him to cater to his needs. Adah soon picks up a new hobby as she started writing during her maternity leave. Francis burns her story, he is unimpressed about her being a writer because he feels intimated by her success. Meanwhile, he keeps failing his accounting exams and is determined to make Adah's life miserable.
Adah moves out with her children after a big quarrel with Francis. Francis is enraged and seeks out Adah in her new home and beats her up mercilessly. Adah seeks court intervention and requests protection, Francis is ordered to stay away from Adah and the kids and to pay child support. The novel ends with Adah running into an old friend from Nigeria, as he pays for her taxi ride home.
Now that you are done with the Summary of Second Class Citizen by Buchi Emecheta, let's take a look at some important events in the novel: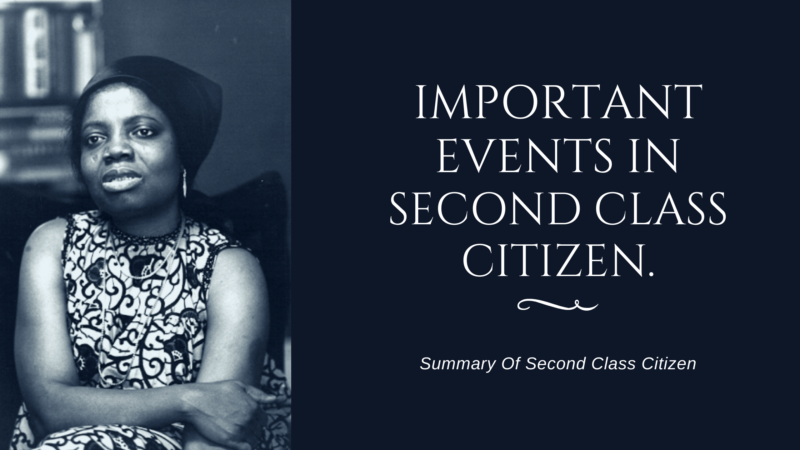 The women of Ibuza welcome the golden child who graduated from the university in the United Kingdom.
Adah enrolls in a neighbor school without consent from her family and is later allowed to continue schooling after consistent refusal to leave school.
Adah's father dies and her mother is inherited by her paternal uncle, and Adah is sent away to live with her maternal uncle
Adah continues schooling while working to pay for her WAEC exam.
Adah marries Francis and is a career woman and a mother.
Francis and his family maltreat Adah and only cherishes her for her financial contributions.
Adah sends Francis abroad, paying for his tuition, and accommodation and giving him a stipend.
Adah later joins Francis in the UK after promising to leave her fortune with her in-laws.
Adah is disappointed with Francis for renting a bad apartment for his wife and children.
Soon Adah starts working in the Library while Francis keeps failing his accounting exams.
Adah employs a babysitter who is careless with her children
Adah gets pregnant again and gives birth through surgery.
Adah wants to go into birth control but Francis is against it and beats her up when he found out her using birth control material.
Adah soon starts writing as a hobby, but Francis burns her novel.
The family is faced with the issue of eviction and were faced with discrimination while looking for a house, as no white landlord was ready to give them a place.
They finally move into a fellow Nigerian's place owned by Mr.Noble
Francis and Adah have a quarrel and she moves out with her children
Francis finds Adah and beats her up
Adah goes to court and asks for a restraining order against Francis.
Francis gets a restraining order and is asked to provide child support to Adah.