In this post, we will be discussing The Lion And The Jewel Characters-Sidi(the jewel), lakunle, baroka,sadiku, the stranger, the wrestler, the favorite, the surveyor.
Sidi (The Jewel)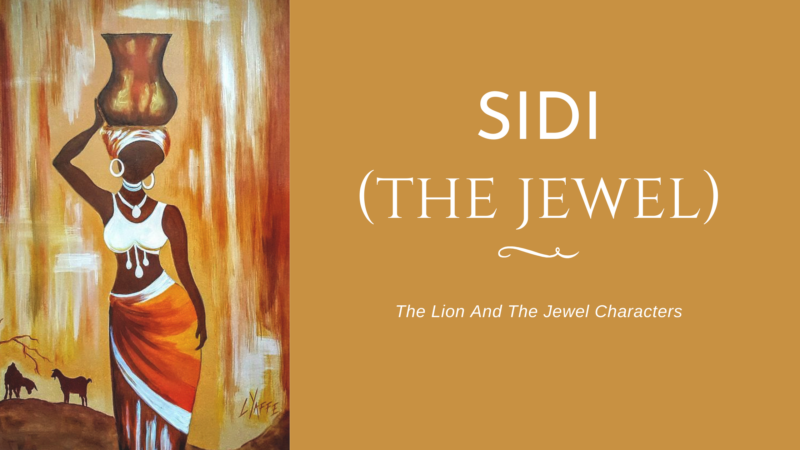 Sidi is the jewel in the play. Sidi is the village's belle, with only a little knowledge of her native language which Baroka "the fox" outwits. Sidi's primary suitor is a teacher at the school named Lakunle however she is also admired by strangers as well as Baroka.
The appearance of her picture in a magazine gets over her head, making her feel superior to the rest of the villagers. Baroka uses Sidi's desire for fame and power and utilizes the same to lure her to the bed. Sidi doesn't like Baroka because he is an old man, which causes her to mock him who is unable to control his destiny.
Sidi is the main character that connects all the other characters in the drama. The reason for her fate is Sadiku's inability to maintain her secret. Her insistence on Lakunle paying the wedding price is what makes her an advocate of the customs and traditions of her people.
Lakunle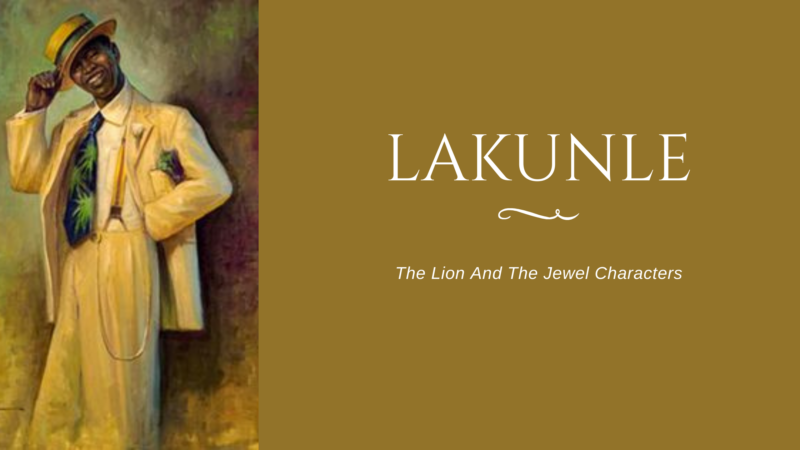 Lakunle is a young, energetic school teacher who manages the Ilujinle school. Ilujinle. He is well-known because of his use of high-pitched English. He is 23 years old. He has a degree but seems to be a bit slack.
Lakunle symbolizes the modernization of progress, Christianity, and civilization; even though his notion of modernization is so elusive and artificial. Lakunle's style of character is in contrast to Baroka's.
Baroka is a huge man with a casual education, woven with his native tongue, and skill which is superior to Lakunle's superficial formal education. Lakunle is popular in the village due to his attire, which is an old-fashioned, small English suit and a small knot. He looks down on his village's culture and traditions. 
For this reason, he doesn't want to pay Sidi's bride price. He describes it as an inhumane tradition that has to be thrown out. He hopes to bring the village into modern cities such as Lagos as well as Ibadan where women can walk alongside their husbands and are not delegated to household servants.
Lakunle is trying to show Sidi modern-day romance, but she finds it a bit sexist. "No, I don't! I tell you I dislike, this strange unhealthy mouthing you perform… Then comes this licking of my lips with yours. It's so unclean…" Lakunle believes that the price for the bride is not needed since his book states so also because he is unable to afford Sidi's bride price.
He is a man with values, but relaxes to some extent, allowing Baroka to masterfully swindle Sidi away from his grasp. He agrees to take Sidi back following the incident. Baroka had raped her as an excuse to get around paying her wedding cost. Lakunle disapproves of Baroka's sexuality and is adamant about everything that happened to Baroka. But, at times, Lakunle wishes to live Baroka's way of life since Baroka always got what was he wanted. Read more…
Baroka (The Lion)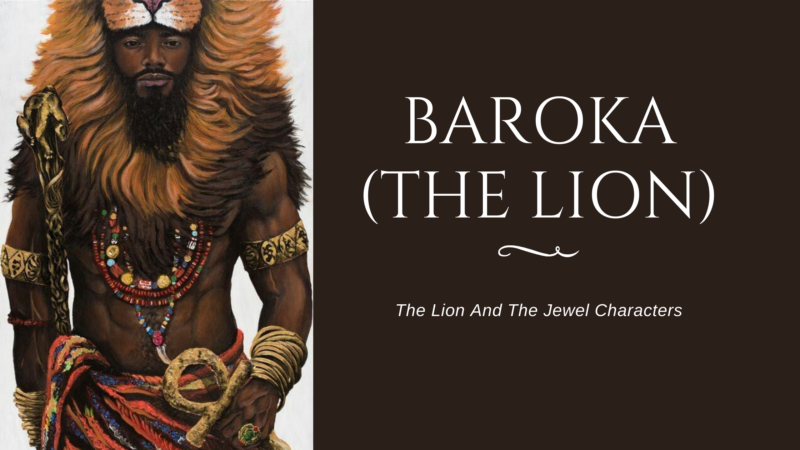 Baroka, the chief (Bale) in Ilujinle. He is a traditional character in the show, representing the Nigerian tradition. He is a polygamist who gets married after every 5 months. He has several wives, the last wife is Ailatu and Sadiku is the leader of his Harlem.
Baroka makes use of Sadiku to attract new brides. Baroka is aged sixty-two and is nicknamed "the lion" because of his strength. However, Lakunle calls him "the fox" because of his sly tricks. These two traits are the reason Baroka employs to steal Sidi and Lakunle and make her his wife.
Baroka is a traditional man and is not keen on modernization to overtake his village. He is a complete individual which is evident in his wealth as well as his wisdom and strength. Baroka is masculine and exudes confidence and pride. He makes use of everything he has to achieve what he desires. He says to Sadiku that he's powerless and knows that she can't conceal her identity in order to lure Sidi to his throne after she's rejected the marriage proposal, declaring him an old-fashioned man.
He plays on Sidi's perception of self-importance by convincing her into using her picture as the face of the Ilujinle postal stamp that will make her famous across the world. The man convinces Sidi that the one Act will be more impressive than her feat of being featured on the front and center of the cover of an issue of a magazine.
Baroka also defies the government's plan to build a railroad through Ilujinle by engaging in a bribery scheme with the surveyor of the government to relocate the railway into a different village. 
In an effort to win the love of Sidi, Baroka portrays him as not being completely opposed to modernity and progress. "I don't hate the idea of progress, it's just its nature, which is why all faces and roofs look alike. …' Baroka perspectives .'
These views contrast with Lakunle in his usage of the language. Lakunle makes use of bookish English and does not comprehend the full meaning of the word because his knowledge is based on foreign faith and youthful enthusiasm. Baroka however speaks fluently in the manner of an older man in order to accomplish his goals. Hence he can get Sidi's (the jewel) admiration in the face of the school teacher and the school teacher Lakunle. Read more…
Sadiku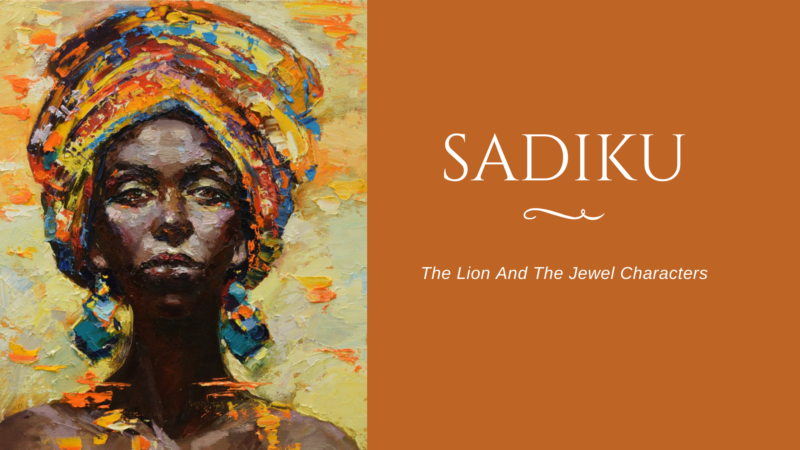 The first wife of Baroka, Sadiku is elderly however she is a source of comfort for her husband. She is the leader of the harem Baroka has since she was the last spouse of the father of Baroka Okiki.
She is around seventy years aged and boasts of killing Okiki with her smaller waist. She is extremely faithful to her husband, and acts as a matchmaker, attempting to find the perfect brides and concubines for him. When Baroka confesses to Sadiku that his manhood is weak, she's happy to be able to "scotched" her husband and achieve a win for women all over males.
Since she is the first wife of Baroka and traditional values provide her with an element of authority, and she is averse to the advancement of technology and modernity.
She represents the plight of villagers who are not educated and this is evident in her dialogues.
The inability to keep secrets is Sadiku's weakness. She bears the burden of getting new wives for Baroka. In a way, Baroka claims that Sadiku is the most faithful of all his wives to him even though he is aware that Sadiku can't keep his secrets.
Sadiku breaks Baroka's trust when she began spreading the news of Baroka's lost manhood; this leads to Sidi's misfortune.
The Stranger
The photographer who came to Ilunjinle from Lagos and snapped numerous photos of Ilunjinle and its residents.
He was completely captivated by Sidi and published photos of her, which were breathtakingly gorgeous. He doesn't even appear in the play.
The Wrestler
Baroka's wrestler who fights with him in order to strengthen him Once Baroka is able to defeat him, he'll be replaced by a new wrestler.
The Favorite
The Bale's most adored wife of the moment is charged with the task of pulling the hairs on his armpit.
The Surveyor
A white man who is in charge of building a railway in the village. Baroka offers him a bribe to stop the project.
We've listed The Lion and The Jewel Characters, if there are any characteristics we missed out on in any character, just notify us in the comment section.
Now that you are done with The Lion and The Jewel Characters, let's move to the Main Themes in The Lion and The Jewel.